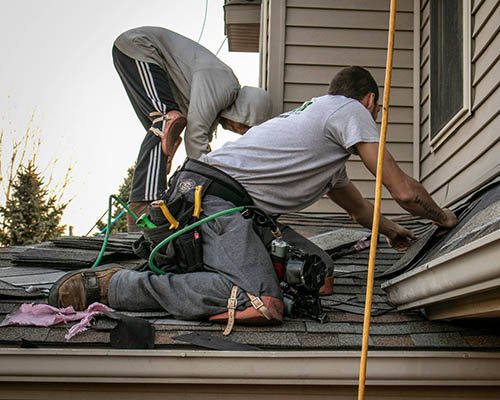 If your roof has suffered repeated leaks or has simply been on your house for a decade or more, you may be wondering how often a roof should be replaced? Roof replacements can be scary, especially when it comes to cost, but the most reputable roofing company in your area can help.
Another common question is what roofing company should replace my roof?  In South East Michigan, the answer to that question is Premier Roofing and Renovations. With decades of experience and dedication to our clients, we're the roof replacement experts with the best pricing and guarantees.
How often should a roof be replaced?
There are several factors that affect the lifespan of your roof that need to be explored before homeowners can answer this question.
Age of the Roof

The age of your roof is the main factor when determining if a replacement is advisable or not. Roofs that are over 10 – 15 years old can start to accumulate problems as damage from leaking and wear over time can build up until the roof supports and other important roofing parts are weakened.

Results of a Roof Inspection

When you get a professional roof inspection, it can uncover lots of roofing problems that may not be apparent to the naked eye. If your old roof has several of these issues, it should be replaced:

Missing shingles
Damaged roof decking
Loss of granules on shingles
Damaged flashing
Blocked or inefficient vents

New Roof Cost vs Roof Value

The final factor for choosing a roof replacement is the cost-effectiveness of new roofing materials. A new roof can add serious value to your home or commercial building not just in the short term with curb appeal, but improved property values over time with a long-term roof warranty.
Premier Roofing and Renovations: Quality Roof Replacements in MI
The team at Premier Roofing and Renovations has decades of combined experience with all roofing services, and we're committed to our local clients. Our experience and professionalism ensure that your roof replacement will go smoothly.
For the most cost-effective roof replacement, call Premier Roofing and Renovations, the most reputable roofers in Michigan!